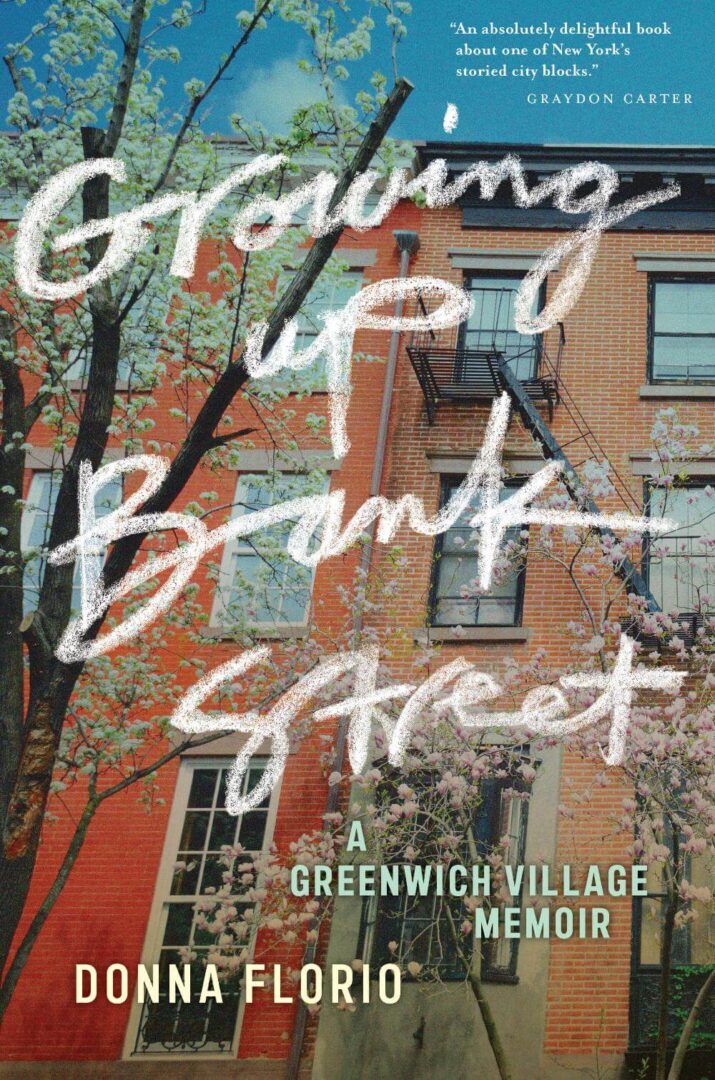 A vivid memoir of life in one of New York City's most dynamic neighborhoods
Growing Up Bank Street is an evocative, tender account of life in Greenwich Village, on a unique street that offered warmth, support, and inspiration to an adventurous and openhearted young girl. Bank Street, a short strip of elegant brownstones and humble tenements in Greenwich Village, can trace its lineage back to the yellow fever epidemics of colonial New York. In the middle of the last century, it became home to a cast of extraordinary characters whose stories intertwine in this spirited narrative.
Growing up, Donna Florio had flamboyant, opera performer parents, and even more free-spirited neighbors. As a child, she lived among beatniks, artists, rock musicians, social visionaries, movie stars, and gritty, blue-collar workers, who imparted to her their irrepressibly eccentric life rules. The real-life Auntie Mame taught her that she is a divine flame from the universe. John Lennon, who lived down the street, was gracious when she dumped water on his head. Sex Pistol star Sid Vicious lived in the apartment next door, and his heroin overdose death came as a wake-up call during her wild twenties. An elderly Broadway dancer led by a brave example as Donna helped him comfort dying Villagers in the terrifying early days of AIDS, and a reclusive writer gave her a path back from the brink when, as a witness to the attacks of 9/11, her world collapsed. These vibrant vignettes weave together a colorful coming of age tale against the backdrop of a historic, iconoclastic street whose residents have been at the heart of the American story.
As Greenwich Village gentrifies and the hallmarks of its colorful past disappear, Growing Up Bank Street gives the reader a captivating glimpse of the thriving culture that once filled its storied streets.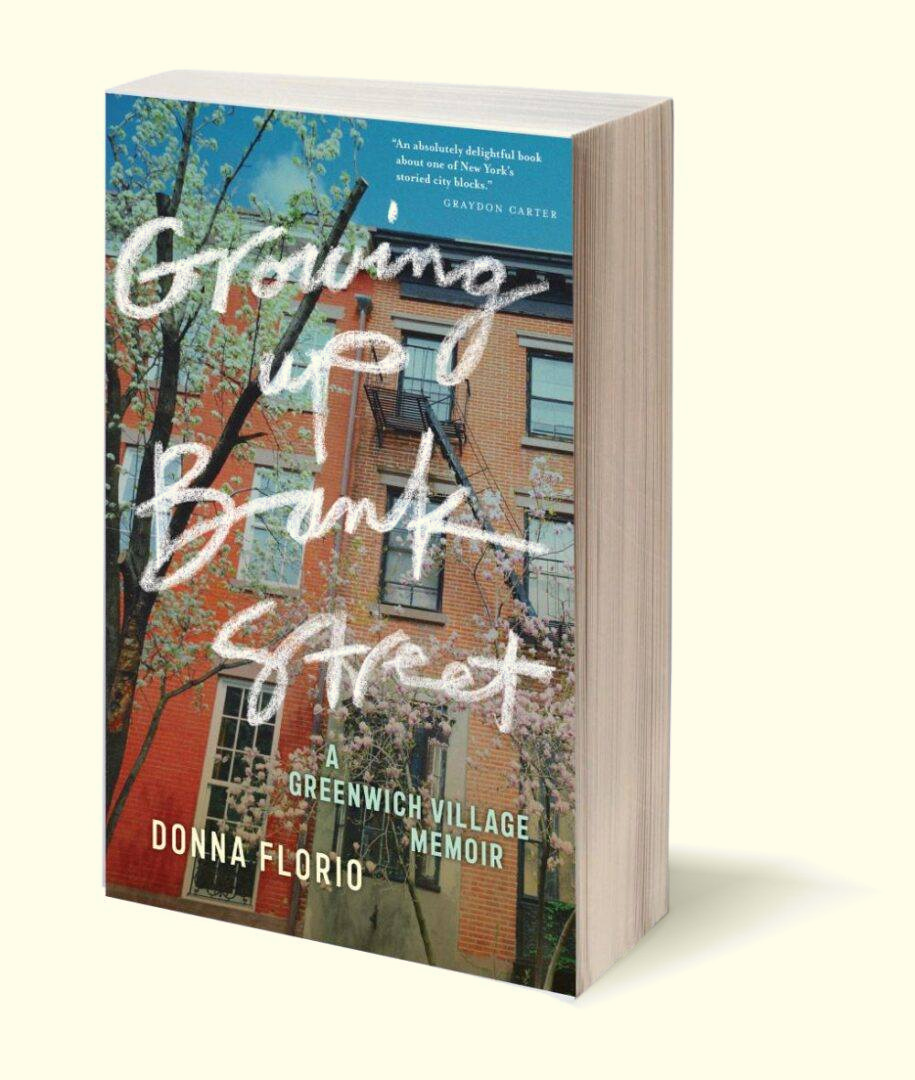 Praise for growing up bank street
"An absolutely delightful book about one of New York's storied city blocks." -- Graydon Carter
"With rich detail and compassion, Florio takes us into her world, sharing many of the poignant memories of her life among 'the neighbors who became my allies and surrogate family.' Most touching of all are the many warm (and sometimes heartbreaking) memories of her neighbors opening their homes and hearts to each other. Thanks to Florio, as the Village continues to face gentrification, like many neighborhoods across America, we will never forget Bank Street. A charming stroll down Memory Lane and a tribute to a vanishing culture." ― Kirkus Reviews
"Florio charms in her debut memoir about a life well-lived on Greenwich Village's Bank Street. This sentimental memoir will uplift any reader, no matter where they may call home." ― Publishers Weekly
"I can't recall when I've had a more engrossing read. Let Donna Florio take you through several decades in the walkup building and the street in Greenwich Village where she has spent much of her life. The Village has always been a creative caldron, attracting artistic and showbiz figures, and Florio knew many of them as neighbors and friends ― and she provides you with an intimate look at them and also some lesser-known figures, taking you from the Broadway of the 1920s through the Cold War through the punks of the 1970s. A former child opera singer and excellent storyteller, Florio's characters are realized on the Bank Street stage. Along the way, you'll meet some of the Village's desperate, funny, engaging personages and you'll be convinced you know them too, even if you have never come within a mile of the neighborhood." ― Kevin Walsh, author of Forgotten New York: Views of a Lost Metropolis
"Opera Baby Arrives," wrote The Villager. My future parents moved to the Village to sing and direct at little local Amato Opera. Sneaking between shows, their friends joked, they concocted a small native. I grew up backstage, babysat by courtesans and toreadors. Once onstage, at 4, as Madame Butterfly's love child, I officially joined the clan. From then, it was rehearsals and nights onstage. Mom joined the Metropolitan Opera's chorus. I, now 7, tagged along in the Met's kid chorus. Adolescence ended that gig, but I had a Met acting roles until I left for college, falling scenery and backstage antics and all.
As I grew, I realized that other Bank Street performers, like John Lennon, Alan Arkin, and Christopher Plummer didn't bellow Pagliacci, sweating greasepaint. Neighbors were the cool ones!
I ran in and out of their homes as they discussed arts, politics, and spiritualism. I giggled when the courtly old Shakespearean actor downstairs kissed my hand and bowed as he put his newspapers on our hall radiator/book swap, thanking me for sharing my candy. Mom coached me to keep eye contact since he was a nudist. The retired vaudeville dancer next door let me play in her 1920s costumes and taught me the Charleston. She insisted that the 1940s FBI had spied on "the biggest communist in America," who'd lived in 1A, from her place. Marion, my adored friend at 72 Bank, with her constant houseful of mumbling guests, told me that Buddha sent me here as a divine flame from Heaven as she combed my hair. Why did some people call her "Auntie Mame"? Katherine, the gentle old lady at 23 Bank, encouraged me to stand up for myself as a female. I promised, with no idea that she was a feminist author who'd lived here with a gay lover and their two adopted children since 1910. Yeffe, the Native American artist in 11 Bank, admonished me to create the life I wanted and to NEVER be dull. She was her own living proof, in ways that defy belief. Actors Jack and Madeline Gilford at 75 Bank refused to name names to the House Un-American Activities Committee. Blacklisted and broke, they raised their kids and stuck to their principles.
​Bank Street was sometimes a puzzle. What are civil rights? I wondered. Black people lived here, together or with white partners, like everyone else. Isn't that normal, like gay people? Some matters stayed vague, but there were definite rules for others. Stand your ground! Defend your principles! Politician Bella Abzug and my father had regular, screaming fights. Flaunt it, darling! Divas rule! Rozzie, a character actress, gave me fashion advice, as did Tish, the female impersonator who still reigns on the corner. Unite against evil! When a storekeeper tongue-kissed me, Bank Street mothers ran to join Mom, beating him almost senseless. Push past yourself and do the right thing. Billy, a twinkling old dancer, rolled up his sleeves and cared for our gay neighbors, suddenly dying of a terrifying new disease called AIDS, until his implacable humanity moved me to join him. Take care of the fragile ones. When 9/11 turned my world black, and I teetered over an abyss, neighbors brought food and walked me to doctors, gently pulling me back.
Bank Street resident, actress Roz Braverman
The Village pulsed with life. Bob Dylan and Joan Baez sang as my friends, and I rudely pushed through their Washington Square Park fans to play tag. . So what? They were all outsiders to us. A friend's dad ran The Fillmore East rock concert hall. We hung out backstage with friendly musicians like the Allman Brothers and Grace Slick. In 1979, reporters sandbagged me, sleep-deprived and clueless, on my stoop when the Sex Pistols' Sid Vicious died across the hall. I never knew that I'd been gargling "Oh my Gawd!" to the press online, a consummate YouTube idiot until the gleeful young guys downstairs showed me. OMG, indeed.
​It would be years before I appreciated how my glorious neighbors' splendid life lessons shaped me for their world, where feisty, principled, free-thinking, opera singing, feminist flames from Heaven have no limits and should never be dull. Still at the Met, I pestered techies at then-new cable TV stations until I ran cameras and produced shows. Bored by college, I ran to Italy to study art and language for several years. Outraged by the TV expose of conditions at a NYC institution for the disabled, I got special education degrees and worked with the school's rescued children. Curious about Wall Street, I became an executive until corporate life staled, and then ran off to set up education programs in Thailand. During my six years in Asia, I also poked my Bank Street nose into Cambodian refugee camps, English language cable TV production, comic book AIDS lessons for child prostitutes, and a Thai version of Sesame Street. When I returned, I still travel the world and do whatever else took my fancy: experimental theater, sky diving, Bach, cable TV art shows, white water kayaking...
In some cases, Bank Street friendships lasted through lifetimes. We ate, gossiped, and went to shows together. We comforted and celebrated. I cared for aging ones, exactly as they had for others, and grieved their passings. Other relationships are still going strong. And fun new ones continue to pop up as folks move in.
Amato Opera when it was on Bleecker Street in 1956
The stories celebrate the famous, infamous, rich, poor, fabulous, and obscure. There was sex, drugs, and wild parties as far back as I find, like silent film star Louise Brooks perched on a bathroom sink, making love to an artist at one of Mame's 1920s soirees. Despite every generation's fond delusion, no one has invented anything new in New York since it was legal…those departments here since it was legal for colonial kids to drink in pubs, opium was easy to find, and prostitutes worked the theater crowds. The wildly diverse lives in the book weave a tapestry of America with all of her flaws and splendors. Giving them a voice was touching my finger to a mirror, watching history shimmer back to life behind me as my own life went on.
Today, I celebrate as young neighbors chase their own dreams - to open a restaurant, be a journalist, or work for Google. They enjoy their own music. Party in their own clubs. Fall in and out of love. Fresh generations of native toddlers stop walkers to pet dogs, just as I did. Some of these new friends touch their fingers to mine in the mirror now, wanting to know, just as I did, what made me who I am and how my journey may shine some light on theirs. What will they do? How will they be remembered? I wish them wonders and happiness as they weave their own stories. Everyone makes their own Bank Street.
Bank Street resident and civil rights champion, Bishop Paul Moore